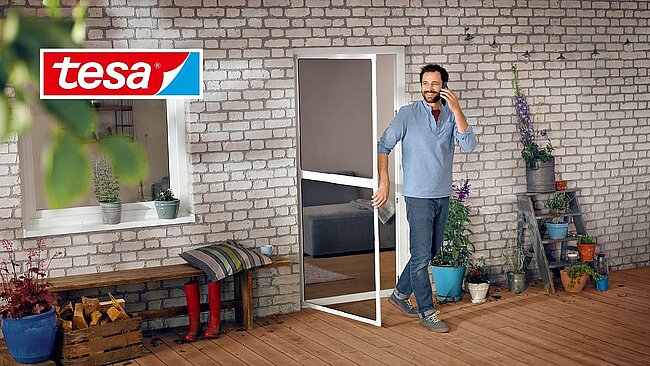 Success Story
tesa SE: Creating a product experience with added security
Solution: Security Label ValiGate®
Industry: Adhesive
Main target: Stop Counterfeiting / Initiate Customer Interaction
Create an entirely new product experience for innovative products while also being prepared for any counterfeit products the moment they hit the market. tesa achieves this with a single solution from a provider of secure product identification and digital applications within its own company.
Combine added value for end customers with hidden product verification
tesa SE is one of the world's leading manufacturers of self-adhesive product and system solutions for industry, tradesmen and end consumers. tesa has been developing innovative product solutions for 125 years with around 100 new adhesive solutions added every year. One of the latest innovations is a high-quality insect screen for doors and windows. The idea is also to adopt new approaches to communication when it is launched onto the market.
How can we take precautions to identify and track any counterfeits on the market right from a product's launch? How can the same product identification also be used to enter into dialogue with end customers? How can you ensure that warranty extensions and money-back campaigns are only activated for original products and, what's more, without communicating their brand protection aspect to customers?
Customised sales approach and fully automatic product verification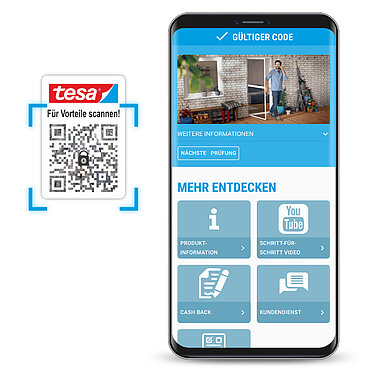 Each individual FALT aluminium frame from the Insect Stop range comes with a ValiGate® label, which gives each product a unique identity. The printed security feature is incorporated within a QR code. A leaflet enclosed in the package encourages scanning. Scanning the QR code gives consumers access to added values such as product registration, warranty extension, installation instructions and much more. For an optimal product experience, explanatory videos have been produced specifically to make the product even more interactive for the customer. Different contents are offered depending on whether the customer is already registered or not. Product verification runs fully automatically in the background with the consumer completely unaware of it.
The security label is attached directly to the product. It must be able to last several years and withstand temperatures up to 70 °C. This means that the product purchaser has access to the stored digital added values via the label at all times, even after installation.
tesa can adapt the digital added value offered on the SCRIBOS 360 digital platform at any time and surprise customers with new product experiences on a daily basis. The results of verification and customer behaviour statistics and evaluations can also be viewed here at any time.

We wanted to create a completely new product experience for the market launch of the FALT aluminium frame for doors in the year following the successful launch of the window solution. It was also important for us to be prepared for any imitations that might emerge. We were at a clear advantage in this respect since we were able to draw on our subsidiary's extensive experience in counterfeit protection in combination with bespoke communications solutions.
Harald Aulert
International Marketing Manager Home Protection & Wellbeing
A modular system that can be flexibly adapted to future needs
By connecting to the SCRIBOS 360 digital platform, tesa is creating a digital experience for its customers based on the product. The content can be expanded and adapted at any time so that the customer can experience the product time and again, even if the insect screen has already been installed. By activating additional tools after registration, the consumer receives an incentive to authorise use of their contact details. This means that these are also available for individual marketing measures at a later stage.
Combined with the SCRIBOS 360 platform, the security label offers hidden product verification in addition to opportunities for customer interaction. Alongside protecting against product piracy, this also ensures that non-cash services such as a warranty extension or a money-back guarantee are only given for original products. Thanks to its modular structure, the system can be further expanded in the future depending on requirements and easily adapted to future needs. A higher security level, an extended tool for campaign management or grey market protection could be integrated at a later stage, for example.
Any questions?
We would love to assist you!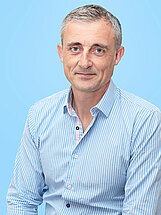 Schedule a meeting with our brand protection expert Damien Guille to start protecting your brand and increase your revenue.
Send an email or give him a call:
+33 6 225826 58