Success Story
The Union of Côtes du Rhône: Interacting with their customers while securing their products
Solution: Security Label VeoMark®
Industry: Wine
Main target: Stop Counterfeiting / Initiate Customer Interaction
In the wine and spirits sector, revenue loss attributed to counterfeiting is estimated at a startling €2.7 billion each year! To combat this issue, the winegrowers' association of Syndicat des Côtes du Rhône began searching for a highly secure and cost-effective brand protection solution, that would protect their renowned wines worldwide. This is where the story of our wonderful partnership began....
A quality seal that combines counterfeit protection and customer communication
The wine and spirits sector suffers annual losses of around €2.7 billion due to counterfeiting, including €235 million in France. In light of this, the winegrowers' association of the Côtes du Rhône began looking for a cost-effective solution to protect original high-quality wines from counterfeiting globally. The Rhône Valley is the second-largest region for PDO wines in France.
Besides combating counterfeiting, communication and interaction with consumers was also a key issue. The quality seal should enable both the association and individual winemakers to communicate directly with consumers with the aim of generating relevant digital added value.
The Côtes du Rhône winegrowers' association represents some 4,000 winegrowers.
Counterfeit protection, market transparency and customer interaction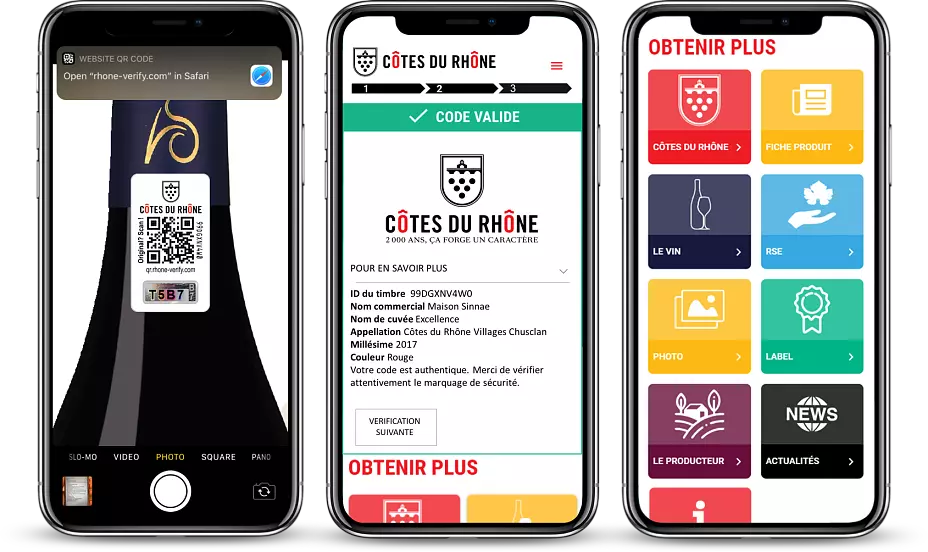 Working closely with the winegrowers' association and individual leading winegrowers in the region, a package of solutions was devised to meet all criteria perfectly. The wine bottles are provided with the VeoMark® security label to prevent product counterfeiting. The associated QR code connects the quality seal to the SCRIBOS 360 digital platform. This enables all market players to access a variety of additional digital benefits, including consumers:
Whether you're an expert or a consumer, anyone holding a bottle of wine with the VeoMark® security label will be able to use an intuitive web authentication system to check if the product is genuine.
Winegrowers can order the required quantity of security labels at any time via an online ordering platform, which will be shipped directly from SCRIBOS.
The winegrowers' association is gaining a powerful tool in the fight against overproduction. It can allocate quotas to the winegrowers based on crop yields and track their use and the flow of goods on the basis of order quantities.
Following authentication, the winegrowers' association and winegrowers have the option of providing consumers with relevant additional information and digital services, such as product information, nutritional details and competitions.
All scans and market activity are presented using clear statistics, thus providing both the association and winegrowers alike with transparency and a better understanding of the market.

SCRIBOS 360 not only meets our expectations in terms of giving proof of originality, but also includes digital communication and marketing elements that make all the difference in communicating with our customers.
Philippe Pellaton
President of the Maison Sinnae winegrowers' cooperative and of the Union of Côtes du Rhône
Beyond counterfeit protection
The Côtes du Rhône winegrowers' association gets everything from a single source – one solution for brand protection, market transparency and customer interaction, all perfectly tailored and interlinked.
In choosing VeoMark® security technology, the association is opting for a solution that has been tried and tested in the market many times over and is well known from other wine regions and a variety of other industries. Verifying the security feature online establishes the link between the physical wine bottle and the digital world.
After authentication, the user is given opportunities to interact, which can be incorporated in a flexible way by the association or the winegrower. As a result, both the association and individual winegrowers are able to develop close relationships with their customers and encourage customer loyalty by offering a range of relevant online content.
Valuable data is generated when winegrowers and consumers use the SCRIBOS 360 online platform. These provide new insights into markets and consumer behaviour and can be used to guide marketing strategy and trace counterfeits effectively.
Any questions?
We would love to assist you!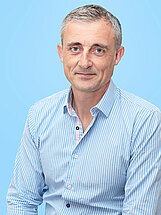 Schedule a meeting with our brand protection expert Damien Guille to start protecting your brand and increase your revenue.
Send an email or give him a call:
+33 6 225826 58