A real Grand Cru in your glass
tesa scribos presents well proven counterfeit protection technologies for high-quality wines at the Vinitech trade fair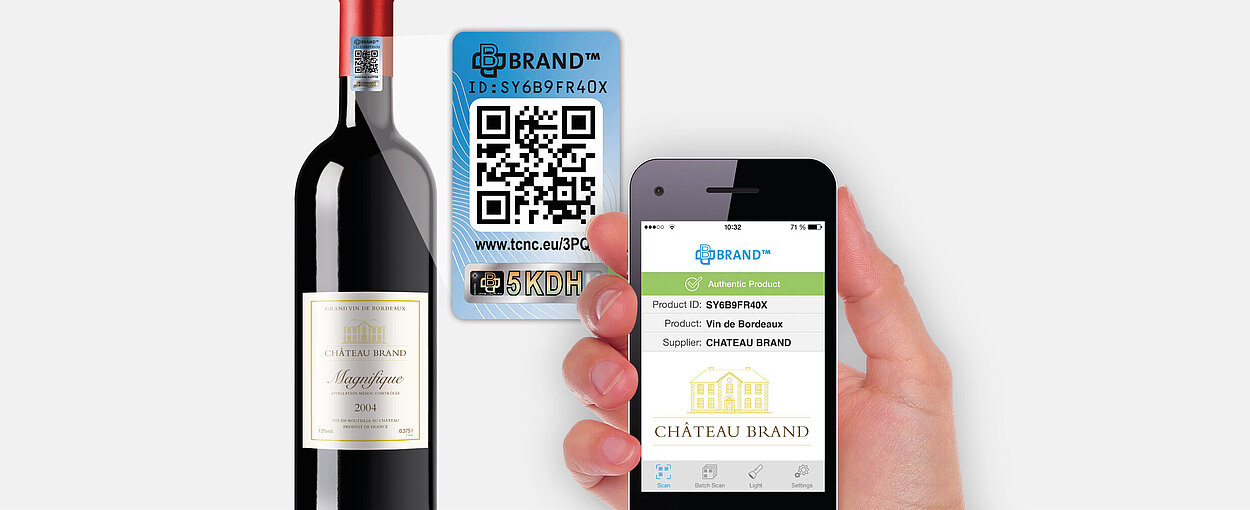 Over the past few years French cult wines have aroused increased interest from wine connoisseurs and collectors. In the face of the high market price these precious drops command, the number of cheap imitations is increasing year on year. By now more than 20 percent of international traded wines are counterfeits. Exclusive wines of the Grand Cru wineries are primarily victims of counterfeiters, but also small winemakers are seriously affected. Especially in China, one of the most important export markets for French wines, imitations overflow the market. tesa scribos will present ways in which wineries can protect against this at Vinitech, one of the leading B2B trade fairs for wine-growers, which will be held from 2nd to 4th December in Bordeaux. The Bordeaux & Bordeaux Supérieur Winemakers' Association as well as the Saint-Emilion Wine Council and the Gironde Chamber of Agriculture (organizer of the Bordeaux Wine Awards) will exhibit with tesa scribos at Stand D 2507 in Hall 1, showcasing the security solution tesa VeoMark which they use and their members recommend.

Taking centre stage at the stand will be counterfeit protection technologies that can be used universally (e.g. solutions developed for the Bordeaux & Bordeaux Supérieur Winemakers' Association and for the Saint-Emilion Wine Council as well as the medals of the Bordeaux Wine Awards), as well as custom solutions which tesa scribos provides to meet the specific requirements of individual vineyards. Visitors to the fair can participate in an interactive competition at the booth and try the products out at the stand and see for themselves just how easy it is to distinguish genuine goods from counterfeits with the tesa connect & check principle. "The rising number of counterfeit products imitating renowned branded wines in Europe and Asia is not only costing the wine-growers money, it is also damaging their reputation. One important effect of counterfeit protection that benefits the wineries is the positive image they convey to their customers. Wine aficionados can rest assured that, when they pour themselves a glass from bottles protected with our technologies, they will be drinking genuine Bordeaux," explains Volker Hahn, International Marketing Director at tesa scribos.


Reliable counterfeit protection: marking and monitoring
One solution which has become a firmly established security measure in the wine-growing region of Bordeaux is tesa VeoMark. Developed in-house at tesa scribos, tesa VeoMark Imaging Technology is used to inscribe each security label individually with the client's customised design. As a result, the coding cannot be copied using printing techniques or holographic technology. In addition, the coding is inseparably linked to its security label, making each label truly unique and providing guaranteed counterfeit protection. The tesa trust & trace system offered in collaboration with MSP (Media Service Partner) enables each individual bottle to be traced across the entire supply chain. The tesa trust & trace system can effortlessly be integrated into existing processes and provides logistics and brand protection with detailed, reliable data which can be used to protect against counterfeiting. Eric Blaiseau, responsible for logistics at the Chateau Larrivet Haut Brion, explains: "I only need about five minutes each week to enter the traceability data on our security labels. And that's despite managing a large number of different ordering channels. Recording the details is extremely simple and intuitive."

Besides tesa VeoMark tesa scribos is also offering tesa PrioSpot as reliable protection against counterfeits. It is a polymer label containing various overt and covert security features.

Strong team
Tesa scribos and MSP-SAS, expert for (mobile) web services, work together closely. The company, located in Bordeaux, is developing mobile applications for the online verification service tesa connect & check.