New security feature: tesa SecretCode
The new, fully automatically verifiable security feature tesa SecretCode makes authenticity verification simpler while also reinforcing product protection.
Heidelberg, 9th December 2015. In tesa SecretCode, the tesa scribos research team has developed a unique security feature which makes it even easier to carry out even more reliable checks with the tesa VeoMark and tesa PrioSpot counterfeit protection solutions.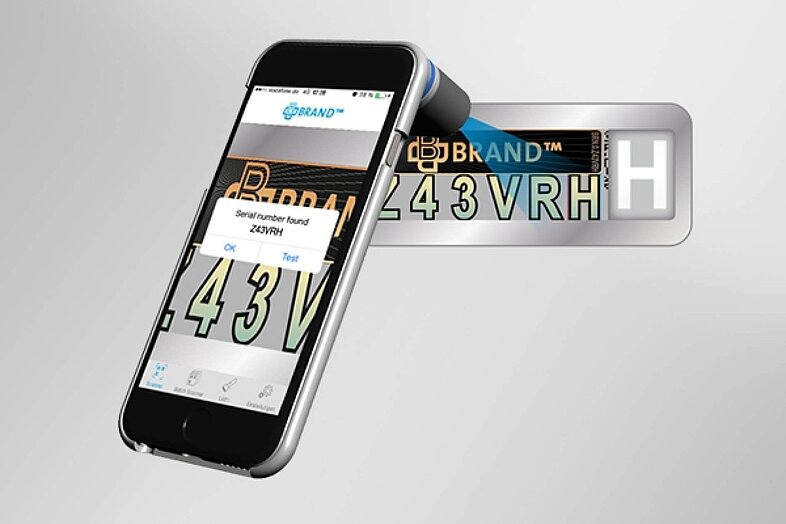 The SecretCode cannot be discerned with the naked eye. It is read and authenticated by the tesa dtect app on a smartphone equipped with a special adapter. The user launches the app and then simply holds the adapter over the security label for an automatic, error-free scan of the SecretCode. The authentication system verifies the SecretCode directly in the smartphone using a multi-stage decryption process. It is impossible for counterfeiters to replicate tesa scribos security solutions since the decryption process will only work in conjunction with the unique, high-resolution tesa scribos labelling technology for security labels.
The SecretCode impresses as a new security feature due to its inherent robustness. Even if parts of the security label are damaged or indeed missing, this does not affect its capacity to verify. Authentication can also be performed offline, ensuring clear verification even when there is no Internet connection. This allows users to carry out authenticity verification reliably and fully automatically anywhere at any time.
The tesa dtect app also offers an archiving function, meaning codes which have already been scanned can be re-checked at a later stage. Product images can also be assigned to different codes. If an invalid code is discovered, this is forwarded directly to the brand owner along with the location of purchase and the product image.
Besides the new, automatically verifiable tesa SecretCode, tesa scribos security solutions already include different features to provide maximum counterfeit protection. The serial code catches the eye when the tesa PrioSpot security label undergoes a visual check. This is part of a unique sequence of numbers and letters, generated as distinct code for each item. The last character in the serial code is reproduced as a moving code on the tesa PrioSpot when exposed to direct light.
These security features can be identified with the naked eye, allowing consumers, retailers and customs officers to verify them. The likewise unique microcode gives added security and can be read using a regular magnifying glass. Produced using high-definition imaging technology, it shows the entire label code. The tesa LaserCode provides another serialised security feature. This code can only be read with a special reading device used only by experts. The LaserCode not only reproduces the serial code, but also displays the brand logo. A part of the unique serial number is thus reproduced on each security level, thus ensuring maximum counterfeit protection.