Win big with one scan!
In October 2021, Meelunie, one of the world's leading potato starch producers, launched its first "Lucky Draw" campaign in Greater China. As a long-standing and trusted partner of Meelunie, SCRIBOS provided the comprehensive solution for this campaign.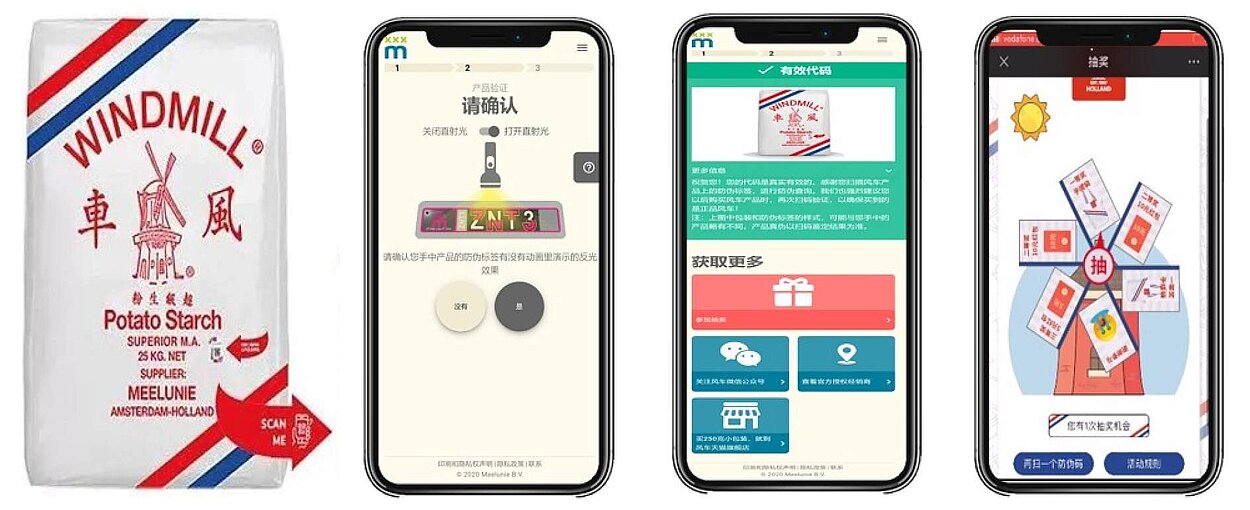 Campaign procedure:
Each 25kg packet of Windmill Potato Starch comes with a PrioSpot® security label on the outer packaging, which connects it to the SCRIBOS 360 online platform. To access the "Lucky Draw", consumers scanned the label on their mobile phones, followed the prompts to authenticate the product, and then could spin the wheel of the Meelunie windmill to win different prizes.

Result:
Through this campaign, Meelunie not only enhanced its brand awareness and understanding of its customers, but most importantly, recorded a record number of scans through the SCRIBOS 360 online platform. The scan rate increased by 50% compared to the same period last year. The dramatic increase in the number of scans provided Meelunie with a rich big data analysis, which will give the company a wide basis for targeted actions against counterfeiters.
Project background:
The Dutch company, Meelunie, is one of the world's leading producers of potato starch. Meelunie's raw windmill starch was introduced to Chinese cooking from Hong Kong and became an instant hit, as it became very popular with restaurant and hotel chefs. It has now been a bestseller in the Chinese market for over 70 years. However, counterfeit products are particularly abundant in these regions (some account for 30-50% of the market volume). Meelunie therefore faced a huge loss of business, reputational damage and consumer safety issues.
Meelunie worked closely with SCRIBOS to find the best solution to combat this problem. Together, they decided to place a PrioSpot® security label on each bag of potato starch and connect the label to the SCRIBOS 360 digital platform. The anti-counterfeiting solution has helped Meelunie to detect counterfeit goods and plan targeted actions to combat this issue. This way, Meelunie has been able to regain their market share over the last years.
With SCRIBOS brand protection solutions, everyone wins and counterfeiters lose out!