Modern technologies to prevent product piracy
tesa scribos makes NFC, RFID and QR codes suitable for reliable product and trademark protection
Heidelberg, 04. March 2016. The Internet of Things (IoT) and Industry 4.0 – two trends which would be inconceivable without contact-free communication via NFC (Near Field Communication) and RFID (Radio Frequency Identification) between smart phones, sensors and everyday items. Heidelberg product and trademark protection specialist tesa scribos efficiently combines its independently developed security technology with NFC and RFID so as to reap the benefits of contact-free communication for dependable product and trademark protection as well. Up to now, transmitting product IDs via NFC or RFID has been unsecure, since the chips and tags can be procured online all over the world and are copyable technology standards, much like barcodes (including QR codes). Electronic identification technologies can only offer effective protection from counterfeits if they are combined with secure visual verification systems from tesa scribos.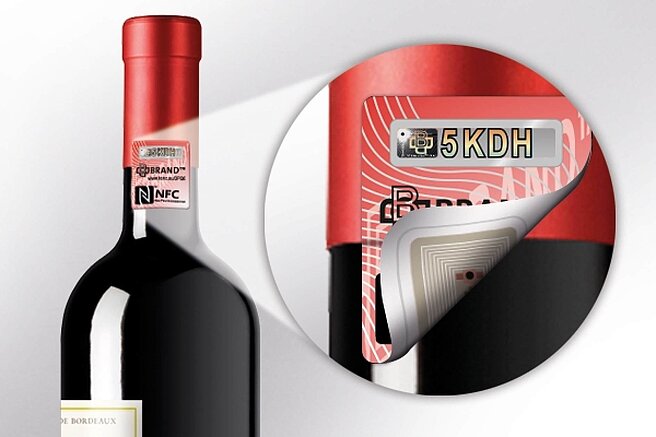 Reliable counterfeit protection with dual code
Security solutions from tesa scribos work by combining one code which was created in a standard technology such as printing or RFID chip with a second code which was created in an exclusive inscribing process: the code in standard technology indicates the label ID on the label. This can be automatically scanned by readers or smart phones by way of a QR code, NFC chip or RFID tag. The second code (known as the SerialCode), on the other hand, is firmly integrated into an authenticity feature. Since the SerialCode is a fixed part of the authenticity feature, consumers can visually verify the authenticity of a product quite easily based on the appearance of the SerialCode.
When a NFC-capable smart phone is held up to the NFC chip on a product, the tesa connect & check website will open and customers will be guided through the authenticity verification process in an intuitive, step-by-step manner. The label ID is already transmitted via NFC when the website is opened. The system automatically recognises the secure SerialCode allocated to it and requests the consumer to visually inspect the authenticity feature on the brand product and confirm its conformity.
Teams of brand protection experts and technical project managers at tesa scribos will develop the right solution based on the brand owner's requests and requirements and combine them with NFC chips, RFID tags and QR codes as required. The latter are more well-known and affordable than NFC and RFID. The more expensive NFC chips and RFID tags, which are well-suited for protecting products such as valuable spirits, offer the following advantage: the label ID is recognised without physical or visual contact. It does not have to be photographed like a QR code does and it works regardless of what lighting conditions are present. The experts at tesa scribos also support the process of delivering and applying the security labels. As an independent subsidiary of tesa SE, tesa scribos can offer the right adhesive solutions for any base surface. This means that the labels can neither be removed by tampering nor reused: in fact, they are irreversibly destroyed when removed.
Applications and potential of NFC and RFID
NFC offers great potential, especially in the consumer field: virtually all new Android smart phones and iPhones series 6 and up are now equipped with NFC readers, even though Apple currently only uses the NFC reader for payment systems. Moreover, NFC is one of the key technologies which makes the Internet of Things possible and allows objects to communicate with a chip. RFID is also at home in the fields of logistics, production and supply chain management as another important technology which helps to implement the smart factory concept in Industry 4.0. There, RFID tags can be used to store product numbers, names or expiration dates. With the right readers, this information can read out from up to 100 products simultaneously at distances of several metres. However, since these are standard technologies which are available worldwide, using them as verification for brand protection requires them to be combined with visual authenticity features which work at any time without readers and internet connections and can be checked by any relevant user group (customs, retail, consumers).